Meet Greg Williams, founder of the Sierra Buttes Trail Stewardship. Greg will be introducing the Connected Communities to us and getting us up to date on the latest developments. What is a Connected Community?
The Connected Communities Project is a visionary effort led in partnership with the US Forest Service, SBTS,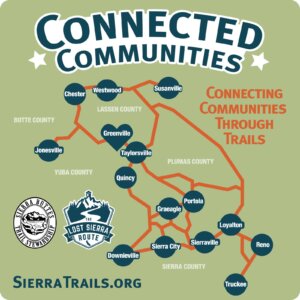 and community partners to connect 15 mountain towns for economic prosperity through outdoor recreation – an $887 billion industry. It will create a vision for a recreation-focused lifestyle through community investment, shared stewardship, economic opportunity, and important new local jobs, all benefiting economically disadvantaged communities in California's Plumas, Sierra, Butte, Lassen, and Nevada Counties as well as Washoe County, Nevada.
This route will link over 600-miles of multi-use trail traversing over breathtaking topography, jagged peaks, and high alpine meadows similar to the Pacific Crest Trail (PCT) and the John Muir Trail (JMT). But unlike the PCT and JMT, this new trans-Sierra Nevada and Cascade Range route allows for all dirt trail travelers including hikers, mountain bikers, moto riders, equestrians, trail runners, hunters, fishermen, wildlife – creating a trail for everyone.
Come hear about the creation of the world's largest trail network– right in our beloved NorCal!
We hope you can attend on Saturday, December 10th and learn more about Connected Communities from Greg Williams! Doors will open at 6 p.m. Enjoy refreshments and see the amazing collection of bicycles from 1868 to the most modern. Plus check out selections from the collection of vintage print materials. There's also time before the presentation to take in tasty local Craft beers and snacks. Presentation starts at 7:00 p.m.
Purchase Tickets
Click here to purchase your advanced tickets, or buy them in-person at the museum while they last. A limited number of tickets may be available at the door unless the event is sold out. Advanced purchase is always recommended.
We look forward to seeing you at the Marin Museum of Bicycling with Greg Williams. Learn about Connected Communities and The Sierra Buttes Trail Stewardship.