The 2023 Mountain Bike Hall of Fame Inductions are here. Join us for the 35th Annual Mountain Bike Hall of Fame Inductions! It's the museum's biggest event of the year and there's a full slate of fun and tasty events you won't want to miss.
Since 1988, the annual Hall of Fame Inductions have become one of the most enjoyable special events of the year in the Mountain Bike Community. Join us on Saturday, October 21st, 2023 for this extra special weekend of fun as HOF luminaries and friends old and new gather from around the world at the Mountain Bike Hall of Fame in Fairfax, California. This year's inductees are Shawn Palmer, Diddie Schneider, and Rob Warner.
Meet, Greet, Ride, Celebrate!
The festivities start Saturday morning October 21 and continue through Saturday evening. Attend both great events with stars of the mountain bike world!
Event #1 – Saturday Morning Ride with the Legends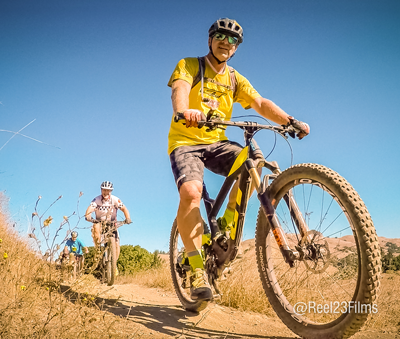 OK, what could be cooler than hanging out with all the inductees? Well, how about going for a ride with them? That's right– join us for a super fun Saturday morning tradition– on the trail! We'll roll out from the Hall of Fame at 9 a.m. and return at about noon. Arrive at 8:15 a.m. to check-in and get ready to go.
After the ride, we'll have plenty of local brews and a great grilled lunch from 11:30 a.m. – 2:00 p.m. all included in your ticket price. Non-riders can join in the lunch too with a $20 donation. The ride takes in local Marin County trails including White Hill Railroad Grade and Camp Tamarancho singletrack including the famous Endor Flow Trail. Past and present Hall of Fame Inductees will be along on the ride. The pace is fun and easy and we regroup often to take in the scenery– no one gets dropped and everyone has a great time. The ride is ebike friendly.
Calling all Legends– the ride and lunch are complimentary for all Mountain Bike Hall of Fame Inductees
Not a Hall of Fame Inductee?
There are 2 ticket levels: Members are $40 and Non-members are $60.
---
Event #2 – THE MAIN EVENT! Saturday Evening Banquet and Induction Ceremony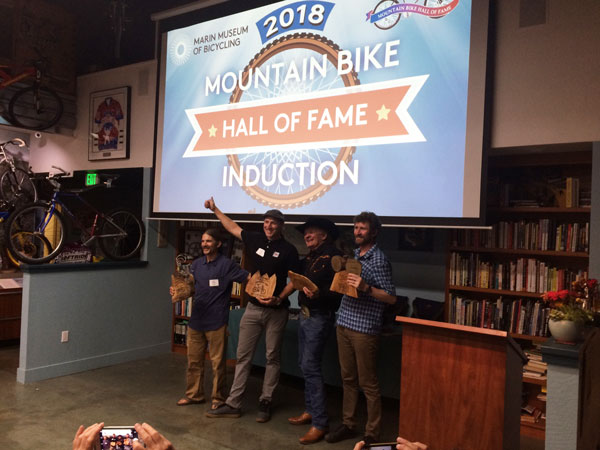 Saturday evening is the main event! A paella dinner (traditional or vegetarian) created on-site, wonderful desserts, and fine wines and beers from 5:30 – 7:00 p.m. The Induction Ceremony will start right after dinner and run until about 10 p.m. Be here to usher in the 2023 Hall of Fame Inductees and enjoy the festivities. NOTE: SEATING IS VERY LIMITED. This event sells out quickly, so purchase your tickets ASAP!
Ticket levels for the Saturday evening event:
Standard Induction Ceremony tickets including great food, fine wines and beers, and a super inspiring program that only the Mountain Bike Hall of Fame can deliver:

Members $80

Non-members $105
Special tax-deductible Hall of Fame Supporter tickets, which combine all of the evening's festivities, plus special premium gifts, are available as follows:
$250 Gold Supporter tickets   Featuring all of the above program of fine dining and ceremony, plus Hall of Fame t-shirt, hat & water bottle.

$500 Platinum Supporter tickets   Featuring everything from the Standard and Gold Supporter levels, plus a set of 4 Repack poster coffee mugs and genuine MBHOF socks, or swap out all the swag for a genuine MBHOF Jersey.
All participants get an extra helping of our gratitude and the satisfaction of supporting the mountain biking community and this amazing organization.
Click here to purchase your advanced tickets, or buy them in person at the museum while they last. A limited number of tickets may be available at the door unless the event is sold out. Advanced purchase is always recommended.
We look forward to seeing you at the Marin Museum of Bicycling's 2022 Mountain Bike Hall of Fame Inductions. Live and in person for the first time since 2019!